Department of Public Safety News Release
FOR IMMEDIATE RELEASE
March 16, 2023
---
Missouri State Highway Patrol social media specialist named State Team Member of the Month for decisive response to individual experiencing personal crisis
---
Social media specialist Meghan E. Basinger, of the Missouri State Highway, has been selected as the Missouri State Team Member of the Month for March 2023. Meghan was selected because her quick thinking and the thoroughness with which she performs her duties helped prevent a potential loss of life far from her office in the Patrol's Jefferson City headquarters.
"The care and compassion with which Meghan Basinger performs her job responsibilities made a tremendous difference in a person's life," Department of Public Safety Director Sandy Karsten said. "Meghan's actions and this state recognition demonstrate that there are many ways to serve and affect the lives of Missourians within the Highway Patrol and the Department of Public Safety. I congratulate Meghan on this well-deserved honor."
Basinger creates content and manages the Patrol's multiple social media accounts. On Aug. 25, 2022, a Patrol account she monitors received emails from a woman experiencing a mental health crisis. The woman said she had been in a traffic crash and felt responsible, that she was extremely depressed, suicidal and that she was having "very bad thoughts." Basinger utilized information in the emails to identify the woman through her social media accounts.
With the information Basinger obtained, the Patrol was able to determine the traffic crash occurred in the Rolla area. The information was forwarded to Troop I communications staff. Troop I and the Rolla Police Department developed further information, identified the woman, and located her. Basinger's actions allowed personnel in Troop I to quickly take the appropriate action to help a person in need. Her attention to detail, dedication, and her strong work ethic led to a positive outcome to what could have been a tragic loss of life. Though not a trained first responder, Basinger's commitment to her job duties and concern for the safety of others made her the ultimate first responder that day!  
Basinger is a Public Information Specialist III in the Highway Patrol's Public Information and Education Division. Her selection as the Missouri Department of Public Safety Non-Sworn Team Member of the Month in February made her eligible for the state honor.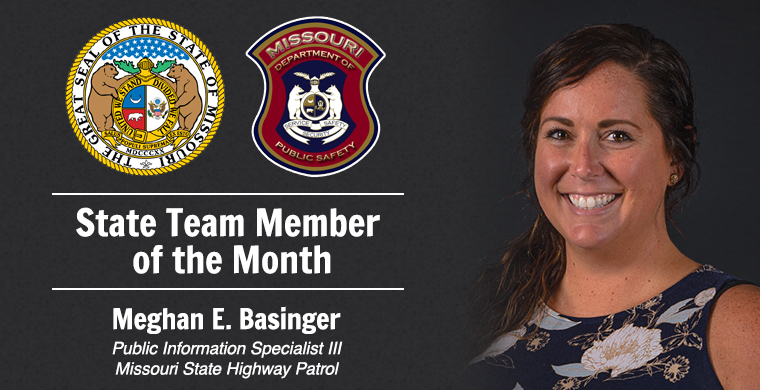 ---
For more information, call 573-751-5432 or e-mail mike.oconnell@dps.mo.gov