DPS Team Members of the Month
November Sworn Team Member of the Month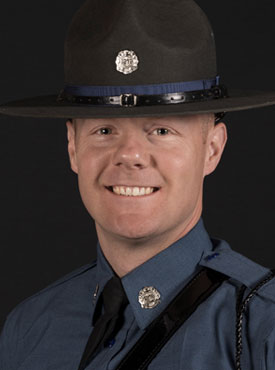 Jacob S. Schwartz
Trooper
Missouri State Highway Patrol
November Non-Sworn Team Member of the Month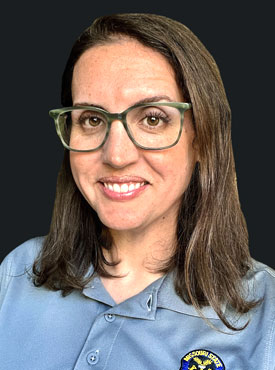 Starlith McAdams
MULES Trainer IV
Missouri State Highway Patrol
Trooper Jacob S. Schwartz, of Missouri State Highway Patrol Troop D, is the November 2023 DPS Sworn Team Members of the Month for his rescue of a man trapped in a burning car following a vehicle pursuit.
Late on the night of Aug. 22, 2023, Jacob attempted to stop a motorist for speeding and weaving in and out of traffic in Branson. The motorist fled, leading to a pursuit. The pursuit ended when the motorist's vehicle rolled off the road, struck a boulder, went airborne and caught fire in a stand of trees. The driver did not respond to Jacob's command to exit the vehicle. With the fire growing rapidly, Jacob retrieved the fire extinguisher from his vehicle and emptied it fighting the fire. Jacob instructed arriving Branson Police officers to use their fire extinguishers to help fight the fire. The driver became responsive and Jacob was now able to approach the vehicle and assist him out of the vehicle. The driver, who was charged with driving while intoxicated, was given medical assistance and taken into custody.
Jacob had carried out a safe pursuit and then quickly transitioned to rescuer in order to protect the life of a suspect trapped in a burning car. His performance was exemplary.
Starlith McAdams, a MULES Trainer IV in Missouri State Highway Patrol Troop A, is the DPS Non-Sworn Team Member of the Month for November for her professionalism, support for local law enforcement agencies and exceptional work this September.
MULES, the Missouri Uniform Law Enforcement System, is a computerized information system that provides essential services like checks of wanted persons, vehicles and warrants for law enforcement statewide. When network issues interrupted the ability of some law enforcement agencies to access MULES in September, Starlith helped implement a plan that set up computers at Troop A so the Patrol could provide critical information to affected agencies. Despite being on vacation, she reported to work for three days, set up the computers and stayed in contact with law enforcement agencies to smooth out the makeshift arrangement and ensure that critical information was provided without interruption.
Starlith was also a key contributor to planning for the Patrol's annual Criminal Justice Information Services Conference in September and led the three-day conference as master of ceremonies. The conference educated about 300 attendees on law enforcement networks, auditing, cybersecurity and policies critical to officer safety.
Starlith, a former dispatcher, has a tremendous understanding of the needs of law enforcement officers working in the field, exemplifies the Patrol's core values, particularly resourcefulness, and is a model team member.
The Missouri Department of Public Safety. Many Missions. One Team.