Office of the Director
The Department of Public Safety comprises eight different agencies (including two commissions) and six separate programs all committed to ensuring the safety of the citizens of Missouri. Additionally, the Office of the Director administers the Homeland Security Program and state and federal funds in grants for juvenile justice, victims' assistance, law enforcement and narcotics control.
Other programs in the Director's Office provide support services and resources to assist local law enforcement agencies and to provide training criteria and licensing for law enforcement officers.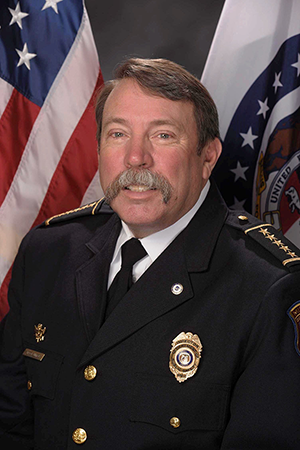 Charles A. (Drew) Juden, Director
Charles A. (Drew) Juden was named Director of the Department of Public Safety on Jan. 2, 2017. Read more...
Senior Staff
Gregg Favre, Deputy Director
Mike Dierkes, Homeland Security Director
Nathan Weinert, General Counsel
Bruce Clemonds, Administrative Services Director
Mike O'Connell, Communications Director
Courtney Kawelaske, Legislative Director