Office of the Director
About the Director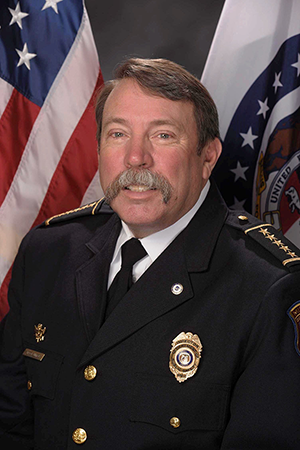 Charles A. (Drew) Juden was named Director of the Department of Public Safety by Gov. Eric Greitens on Jan. 2, 2017. Prior to this appointment, Drew was Director of the Sikeston Department of Public Safety, where he served since 1978 and was one of the department's first three Public Safety Officers.
Prior to holding the position of Director in Sikeston, Drew developed many courses in Fire Science and Criminal Justice; he is both a State and National Level certified instructor. He was Sikeston's first training officer. He also served as a squad sergeant and a shift commander in the Police Division. He has held the positions of Fire and Police Division Commander.
Under Drew's leadership in 2011, the Sikeston Department of Public Safety was chosen as the pilot agency as the state of Missouri began to build its statewide interoperable communications system, known as MOSWIN. In that role, he worked closely with the Missouri Department of Public Safety to develop policies and implement the system that enables real-time, seamless agency-to-agency and discipline-to-discipline interoperable communications. Today, more than 1,150 agencies have access to the MOSWIN system and more than 150 agencies use MOSWIN for all of internal communications.
Drew is a member of the State of Missouri Homeland Security Advisory Council. Previously, he served as a member of the Board of Directors of the SEMO Major Case Squad, SEMO Drug Task Force, and is the founding member of SEMO Bomb Team. He served as President of the Missouri Police Chiefs Association in 2015.
In 2008, Drew received the Missouri Police Chiefs Association's Donald "Red" Loehr Outstanding Police Chief Award. He has received many awards locally, including Outstanding Young Law Enforcement Officer, Law Enforcement Officer of the Year and Citizen of the Year.
About the Deputy Director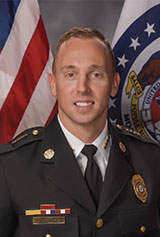 A fourth generation public servant, Gregg Favre was appointed as the Deputy Director of the Department of Public Safety by Gov. Eric Greitens on Jan. 2, 2017.
Prior to his appointment as Deputy Director, Gregg served as a Captain with the St. Louis Fire Department and member of the Fire Chief's Command Staff. In this role, he provided leadership and policy direction to staff across the Department, including the offices of homeland security, special operations, public affairs and operational planning. He served as the on-scene commander for a wide variety of high profile national events, including dignitary visits from the White House, the World Series Playoffs for Major League Baseball, civil unrest related to Ferguson, Mo., and the nation's second largest Mardi Gras celebration.
An accomplished author and public speaker, Gregg's award-winning writing and research has been featured in a variety of national print, network and cable outlets, as well as testimony before Congress. He has been featured on NBC, CBS, ABC, FOX, and NPR. In addition to his operational experience, he has served as the principal negotiator for a variety of partners, brokering events and contracts with the White House and the Office of the First Lady, Goldman Sachs, Paramount Studios, Target and ABC/ESPN/Disney.
A dedicated public servant, Gregg has received numerous citations and commendations for his professional endeavors, and was most recently honored as one of St. Louis' most influential young professionals, receiving the 'Top 40 Under 40' award. Gregg is a recipient of the national Firehouse® Heroism Medal for actions that are undertaken "at a great personal risk and without regard for one's own safety." He is also a recipient of the St. Louis Fire Department Distinguished Service Medal, and a two-time recipient of the Police and Firemen's Association Commendation Medal.
Gregg is a graduate of the United States Naval Postgraduate School, earning his masters in national security studies. He is an alum of The George Washington University School of Medicine, where he earned a masters with honors. He is a former Fellow at Harvard University's Kennedy School of Government & School of Public Health, completing an applied research project on leadership and disaster response. He completed his undergraduate work at the University of Central Missouri, double majoring in the social sciences.