Office of the Director
About the Director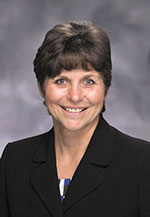 On Aug. 27, 2018, Gov. Mike Parson appointed Sandy Karsten as the 15th Director of the Missouri Department of Public Safety. Prior to her appointment, Karsten served as the Superintendent of the Missouri State Highway Patrol. Karsten was the first woman in the history of the Missouri State Highway Patrol to serve as Colonel and is the first woman to serve as Director of the Department of Public Safety.
DPS is one of the largest departments in Missouri state government. As the leader of DPS, Director Karsten is responsible for coordinating services that enhance the safety and security of millions of residents and visitors across Missouri. Karsten has demonstrated an unwavering commitment to public service and is firmly dedicated to earning the public's trust through enhanced accountability and transparency. Director Karsten has been employed by DPS since 1985 and has earned the distinction of obtaining every rank from trooper to colonel, and now director.
Throughout her career, Director Karsten has been a leader within the department and the community, actively participating in programs such as Girls State, the American Legion Cadet Patrol Academy, Central Missouri Honor Flight, The Constitution Project, Operation TOYS, Special Olympics Law Enforcement Torch Run, Blair Oaks Wrestling, and other community outreach projects throughout Missouri.
Director Karsten holds a Bachelor of Science degree in criminal justice from Truman State University, Kirksville, and a master's degree in public administration from the University of Missouri. Karsten is also a graduate of the Northwestern University Traffic Institute's School of Police Staff and Command. Karsten and her husband, Tim, have two grown sons.